Late Knight Edition
A time travel expedition through the stories of SFWA Grandmaster Damon Knight. Here are six of his stories and two essays, including a story never before published.
Includes Damon's analysis of various definitions of Science Fiction, an interesting discussion for science fiction writers.
Stories include "I See You," a still relevant Hugo nominee in which anyone can see anyone and anything, past or present, and there is no such time as privacy.
"Tarcan of the Hoboes," a parody of Tarzan in which the son of an American millionaire is raised in the wild by hoboes. "The Cage," a previously unpublished story about a man's attempt to escape the cage his life has become.
"Good-bye, Henry J. Kostkos, Goodbye," an insightful, biting essay about science fiction's old guard.
With an introduction by Kate Wilhelm.
Created originally in conjunction with Damon's appearance as Guest of Honor at Boskone XXII.
About the Author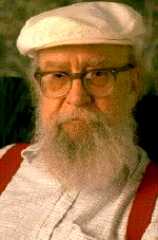 Damon Knight was a science fiction author, editor, critic and fan. His forte was short stories and he is widely acknowledged as having been a master of the genre. He was a member of the Futurians, an early organization of the most prominent SF writers of the day. He founded the Science Fiction and Fantasy Writers of America, Inc. (SFWA), the primary writers' organization for genre writers, as well as the Milford Writers workshop and co-founded the Clarion Writers Workshop. He edited the notable Orbit anthology series, and received the Hugo and SFWA Grand Master award. The award was later renamed in his honor. He was married to fellow writer Kate Wilhelm.

~~~
This ebook is in your choice of formats that work for almost every ebook reader and has no copy protection ("DRM"). Read it on any reader you want, any time.
We hope you enjoy the ebook! If you like it, please tell others to visit www.ReAnimus.com/1690
Returning Customers
---
---
---
---
---
---
---
---
---
---
© Reanimus.com