Rule Golden and Other Stories
Another excellent collection of SFWA Grandmaster Damon Knight's always-excellent stories—five novellas in this case, generally circling around "the great unsolved problem of politics: how to keep the bastards from grinding you down."
Rule Golden—what if the Golden Rule were enforced in reverse by some force—the bad things you do to others are done to you?
Natural State—are cities doomed by genetic engineering?
Double Meaning—a race against time to find a shape-shifting alien spy.
The Earth Quarter—why did the aliens on a remote planet keep all the humans locked inside a section of the city?
The Dying Man—what would it be like to be immortal... then suddenly find out you'd become mortal?
About the Author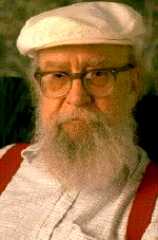 Damon Knight was a science fiction author, editor, critic and fan. His forte was short stories and he is widely acknowledged as having been a master of the genre. He was a member of the Futurians, an early organization of the most prominent SF writers of the day. He founded the Science Fiction and Fantasy Writers of America, Inc. (SFWA), the primary writers' organization for genre writers, as well as the Milford Writers workshop and co-founded the Clarion Writers Workshop. He edited the notable Orbit anthology series, and received the Hugo and SFWA Grand Master award. The award was later renamed in his honor. He was married to fellow writer Kate Wilhelm.

~~~
This ebook is in your choice of formats that work for almost every ebook reader and has no copy protection ("DRM"). Read it on any reader you want, any time.
We hope you enjoy the ebook! If you like it, please tell others to visit www.ReAnimus.com/1688
Returning Customers
---
---
---
---
---
---
---
---
---
---
© Reanimus.com