Hell's Pavement
Republishing all of SFWA Grandmaster Damon Knight's books, in conjunction with the author's family - see all of Damon Knight's books from ReAnimus Press!
Anti-social behavior is "cured"? by giving everyone an "analogue", a mental imprint of an authority figure that intervenes whenever violent or otherwise harmful acts are contemplated.
What could be more perfect? Twenty-first century civilization has no war, no anxiety, no poverty. Why? Because you have a remote-control, computer conscience, keeping you on the straight and narrow. There's one small catch, of course: you have no choice. You are a prisoner of mental manipulation.
Young Arthur Bass is an Immune, one of the few who has escaped this stifling control. But when his "subversive" nature is discovered, he must flee or be annihilated. As an underground wanderer and explorer, he meets brilliant and beautiful Annie Silvers. Together, they become rebels determined to rescue human beings from the robot state. But being a rebel is the most dangerous profession of all.
"One of the most perceptive, fascinating, and delightfully horrible Utopias I've ever read."
—Robert A. W. Lowndes
"There's a voice in your brain...but its not yours! Nerve-shattering...a chase sequence on a par with the best of Hitchcock"
—The New York Times
About the Author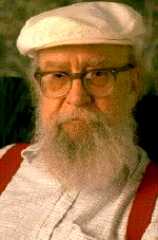 Damon Knight was a science fiction author, editor, critic and fan. His forte was short stories and he is widely acknowledged as having been a master of the genre. He was a member of the Futurians, an early organization of the most prominent SF writers of the day. He founded the Science Fiction and Fantasy Writers of America, Inc. (SFWA), the primary writers' organization for genre writers, as well as the Milford Writers workshop and co-founded the Clarion Writers Workshop. He edited the notable Orbit anthology series, and received the Hugo and SFWA Grand Master award. The award was later renamed in his honor. He was married to fellow writer Kate Wilhelm.

~~~
This ebook is in your choice of formats that work for almost every ebook reader and has no copy protection ("DRM"). Read it on any reader you want, any time.
We hope you enjoy the ebook! If you like it, please tell others to visit www.ReAnimus.com/1671
Returning Customers
---
---
---
---
---
---
---
---
---
---
© Reanimus.com