The Magicians
Unseen by an apathetic society, a stupendous battle is being waged between good and evil. In the center of an unassuming town, gathered in a nondescript hotel, are the most powerful forces of time eternal: the thirteen black covens. On All Hallow's Eve they unite to summon the Black Magician, the darkest and deadliest being of all time. They are a rag-tag group of misfits: an inexperienced but lovely witch, an ancient sorcerer obsessed with math, and a private detective who can't seem to solve a case, but they are humanity's only hope. The world is unaware of the battle, but it will suffer the ultimate consequence if the war is won by the black evil. Can a group of social rejects save the world? Or will humanity plunge forever into the abyss?
About the Author
The James Gunn Library
The authorized site for all of the SFWA Grandmaster's books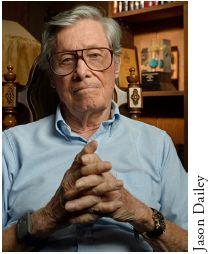 James Gunn is the author of more than thirty books, including the Hugo Award-winning nonfiction work Isaac Asimov: The Foundations of Science Fiction and the novel The Immortals, on which the television series The Immortal was based. Other novels include The Listeners, The Joy Makers, and Kampus. He also has collaborated with other authors, most notably with Jack Williamson on Star Bridge. He was named a Grand Master by the Science Fiction and Fantasy Writers of America in 2007.
Mr. Gunn is also the editor of a series of anthologies tracing the history of science fiction, The Road to Science Fiction, and is a past president of The Science Fiction Writers of America. He is professor emeritus of English and was the founding director of the Center for the Study of Science Fiction at the University of Kansas. He is the winner of the Pilgrim Award for lifetime achievement in science fiction scholarship, and is a past president of the Science Fiction Research Association. He passed away in 2020 at the age of 97, still writing till the last.
~~~
This ebook is in your choice of formats that work for almost every ebook reader and has no copy protection ("DRM"). Read it on any reader you want, any time.
We hope you enjoy the ebook! If you like it, please tell others to visit www.ReAnimus.com/1639
Returning Customers
---
---
---
---
---
---
---
---
---
---
© Reanimus.com